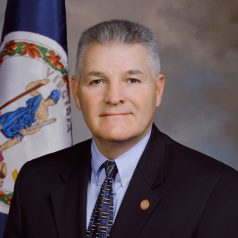 Mike Reilly
Executive Director 1005 Technology Park DriveGlen Allen, VA 23059-4500
Fax:
In 2018 Michael T. Reilly was appointed by Governor Ralph Northam as the Executive Director of the Virginia Department of Fire Programs. In the last year Executive Director Reilly has been instrumental in restructuring the Virginia Fire Marshal Academy, and fighting for progressive legislation moving forward the Governor's agenda in reducing firefighter line of duty deaths, reducing firefighter related cancer, and educating Virginia's Fire Service in stress reduction and suicide prevention.
Michael Reilly served more than 36 years with the Fairfax County Fire and Rescue Department, and retired in 2015 at the rank of deputy chief. As deputy chief of a department with over 1500 personnel and staff, Michael held command level positions as Operations Chief, Chief Training Officer and Chief of the Fire Marshal's Office. In addition, Michael also served for over 25 years as the Fire Department Safety Officer with FEMA USAR Team, Virginia Task Force-1, and the Office of the U.S. Foreign Disaster Assistance U.S. Urban Search and Rescue Team USA-1. As safety officer, he responded to missions around the world including: the Pentagon on 9/11, the 1999 Taiwan and Turkey earthquakes, the 1988 U.S. Embassy bombing in Kenya.
Director Reilly was appointed to the Virginia Fire Service Board by Governor Warner in 2004 and again by Governor Kaine in 2008 to represent the International Association of Arson Investigators. As the fire marshal for Fairfax County, Michael provided expert testimony to legislative bodies on the impacts of bills and resolutions.
In 2015, Michael was recalled to active duty with the U.S. Coast Guard, retiring in 2017 from reserve military duty at the rank of CWO-4, and was the Senior Reserve Special Agent with the U.S. Coast Guard Investigative Service (CGIS) with 31 years' of service. During this time he conducted over 1500 criminal investigations and over 250 protective service operations.