VDFP Launches New Learning Management System, Cornerstone OnDemand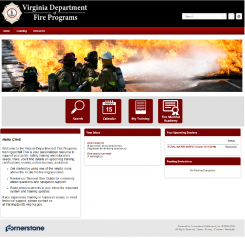 April 23, 2020 – The Virginia Department of Fire Programs (VDFP) announced today the launch of its highly anticipated online, learning management system, Cornerstone OnDemand. 
Over 40,000 fire service professionals in Virginia have access to the cloud-based system that is equipped with a dynamic search feature and events calendar to easily locate VDFP training offerings throughout the Commonwealth.  
VDFP is taking a phased approach to implementing many features in Cornerstone OnDemand. The system unveiling is Phase 1. Users are encouraged to learn about Cornerstone OnDemand's self-service features: registration, profile changes, searchable events calendar, and access to student training guides and instructor resources.
Before you log in for the first time, watch our Welcome Orientation Video.
*If you have taken, registered for, or completed a VDFP training from November 2, 2019- April 1, 2020 you already have an account in Cornerstone OnDemand. You will not need to create a new account.
VDFP is encouraging new users to do the following after the initial login: 
Check your user name and profile

. 

Browse the Cornerstone OnDemand home page

to become familiar with its features, and new look and feel. 

Review the Terms & Icons guide

for a quick overview of the differences between Cornerstone OnDemand and FSTRS.

Upload your FSTRS transcript.

This step is critical as you begin to register for new courses (sessions) that have pre-requisites. 
VDFP is kicking off CSOD Office Hours – Online next week for stakeholders who prefer a visual walkthrough of Cornerstone OnDemand, followed by a Q&A session. Register on the CSOD page. 
Phases 2 and 3 of the Cornerstone OnDemand implementation will be determined and announced at a later date. Visit the CSOD Page for updates.