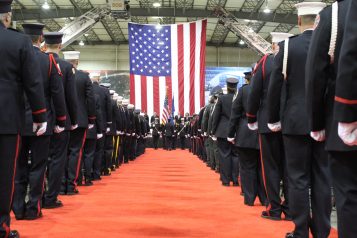 The 21st Annual Virginia Fire and Emergency Medical Services Memorial Service will be held at 12 p.m. on Saturday, June 2, 2018 at the Richmond Raceway Complex Main Exhibition Hall. This year's service honors four individuals who have been recognized by the Virginia Line of Duty Act in the last year for their bravery and dedication to the citizens of the Commonwealth. The memorial service marks the official start of Virginia Fire and Emergency Medical Services Memorial Week, which will be commemorated during the week of June 3-9.
Governor's Proclamation of Fire and EMS Memorial Week.
The individuals honored include Firefighter Roger Dale Johns of Eagle Rock Volunteer Fire Department, Senior Firefighter Kevin Lee Frye of Manassas Fire and Rescue Department, Willard C. "Bill" Meiggs, III of Chesapeake Fire Department and Captain Darrell C. Hamlett of Lynchburg Fire Department. Their names have been added to the Virginia Public Safety Memorial in Richmond and will be dedicated at Wreath Laying Ceremony on June 1, 2018 at 6:00 pm. In addition to honoring these individuals, the memorial service will also honor the memory of all the firefighters and emergency medical services personnel who have lost their lives over the years while serving and protecting the citizens of the Commonwealth. Read their biographies.
The service will also be broadcast live over the internet. Viewers will be able to access a live feed of the service starting at 11:30 a.m. with preliminary information on the individuals being honored, followed at 12 p.m. by the full service. Click Here for Live Feed.
A reception, sponsored by the Virginia Fire Chiefs Association, Virginia State Firefighters Association, and Virginia Professional Firefighters Association, will be held for family members, department members, and guests immediately following the service.   Both the service and the reception are open to the public.
For questions about the Virginia Fire and Emergency Medical Services Memorial Service, contact Erin B. Rice at (804) 385-9887 or by email at erin.rice@vdfp.virginia.gov.