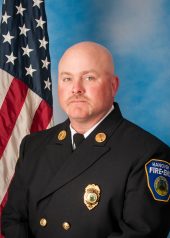 In Memoriam: Lieutenant Brad Clark
On October 11, 2018, we lost our fire services brother, Lieutenant Brad Clark of Hanover County Fire-EMS, Station 6.
Lt. Clark was among four Fire-EMS personnel who were providing assistance involving a two-vehicle crash on southbound I-295, just north of exit 38B in Hanover County, when a tractor trailer struck the engine in the rear. He succumbed to his injuries at the scene.