Virginia Department of Fire Programs Welcomes Newly Appointed Deputy Director Robert Dubé
RICHMOND – January 13, 2020 – The Virginia Department of Fire Programs (VDFP) announced today the appointment of its new Deputy Director, Robert Dubé. Dubé joins VDFP with over four decades of experience in firefighting and emergency management.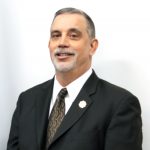 Dubé has dedicated himself to an extensive career in public safety. He last served as the fire chief of the Alexandria Fire Department, where he retired in July 2019. A past recipient of the Virginia Governor's Award for Excellence in Fire Service Management, Dubé's career tenure include service as a county administrator and fire/EMS chief and emergency services coordinator for Louisa County; an assistant fire chief and emergency manager for the City of Clearwater, Florida; and, a firefighter/EMT and captain for Fairfax County, where he began his career.
As an operations chief and task force leader for Virginia Task Force One's Urban Search and Rescue Team, Dubé responded to local and international crises such as the attack on the Pentagon during 9/11, and disasters in Kenya, Turkey, Taiwan, and Iran.
Dubé also served as an adjunct instructor for the National Fire Academy and FEMA, where he taught emergency management and specialty rescue courses.
"Deputy Director Dubé brings to VDFP a unique perspective as a former county government administrator, fire officer, and first responder. He understands what I call the '20,000 foot view' of leadership, yet will infuse his skills in planning and mitigation into our business operations," said VDFP Executive Director Michael Reilly. "We are ready to add his expertise to the mix of leadership here at VDFP."
Dubé holds a master's degree in Executive Fire Service Leadership from Grand Canyon University, and is an Executive Fire Officer graduate of the National Fire Academy.